Corral
The new chicks and ducklings just arrived! Visit them in Greenhouse "A"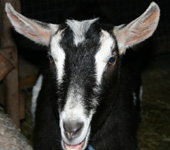 Check out our Corral, with the cool Piggy Pond and its deck for the Pigs. Walk over the bridge and onto the Corral Nature Trail, to see all the tree faces on the trail.

We have a dozen or more kinds of farm animals in the Corral, waiting to be fed. Please only give bread to the pigs and birds, not the alpacas, horse and goats. Give them apples, veggies, and handfuls of green grass. Please be sure that the fruits and veggies are cut to bite size pices so the animals won't choke.
Image Gallery